I had the opportunity to visit a hidden gem I've driven past over a hundred times and never actually seen what is behind the trees and fences until just last week. It was the second Fort Lincoln built on land that originally belonged to the Mandan, Hidatsa and Arikara people and the Dakota had fights for the land as well. Today it is United Tribes Technical College but many of the original fort buildings which started being constructed in 1899 remain.

I presented at a two day online marketing training course for small business owners in North Dakota on this now college campus. I thought about the history and read up on it on my iPhone while still visiting.  This fort was the last stand for the United States government in "Dakota Territory". North Dakota was a new state. The first Fort Lincoln had reached its demise across the Missouri River in Mandan. General Custer had a brief stint at the first Fort Lincoln from 1874 to 1876.
In the 20th century the fort went on to serve as a base for World War I training and during World War II it was an internment camp for Japanese Americans and German Americans. It's hard for me to imagine that in less than 50 years this fort had gone from fighting off the Indians to making new Americans prisoners. I read that 10 foot high barbed wire fence was constructed along with guard towers at the internment camp. No doubt this fort had seen dark days in our history.
Thankfully, some fences are meant to be taken down, broken and freed. Today the architecture remains. The history is present, so is the irony.
The very last fort the American government built to fight the Indians today houses generations of American Indians on the south side of Bismarck, North Dakota. When I visited children were playing in the park and riding bikes in the streets. There is a grades K-8 school along with three childcare facilities on campus. Their parents are being educated at United Tribes Technical College.
The very last fort the American government built on American Indian land has been home to educating American Indians since 1969. Today 1,800 students are educated annually here both through 20 different on-campus and online vocational programs with 10-15% of the students being non-Native American.
What's the impact? Immeasurable. But the true economic impact says this small college has an economic impact of $32 million annually just on the Bismarck/ Mandan, North Dakota communities.
I am linking up today with Thankful Thursday, Rural Thursday, Friday Fences and Foto Friday. This is a slice of rural history I am thankful to have learned, grateful the 10 foot high barbed wire fences no longer remain and hopeful when seeing change create progress.
Thank you to United Tribes Technical College for hosting the North Dakota Department of Agriculture , my employer and NDSU Small Business Extension. I was not asked to blog about this and the history of the college was never discussed during my visit until I started asking. It just simply struck me while being on campus what history and irony United Tribes Technical College holds today for all of us to recognize and remember.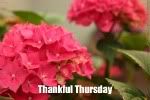 http://photograph4life.blogspot.com" target=""_blank"">