The girls were motivated to exercise together while watching a few minutes of cartoons. My mom was hovering nearby just in case they fell while I took pictures. It got to be so exciting that I had to back up and video it.
First the photos…
 Miss A was not satisfied being on the back of the treadmill. She needed to be in first place.
After her take over, they started all over again. I got 30 seconds of partially side ways video. Enjoy this one and you'll see that life is never dull or lacking entertainment at our house.
For the first time in a long time I got up this morning and did 20 minutes on the elliptical machine. Dust flew around when I started. No matter how hard I tried it wasn't 1/10 as much as fun as watching the girls and their exercise!
What's your exercise routine? And what do you do to make exciting? I need some motivation beyond our girls entertaining exercise.
Linked up today for Wordless Wednesday…or wordy like I am to a few favorite WW blogger friends: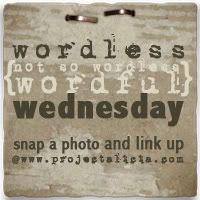 Pin It