I travel…frequently for my career but otherwise work from home. When I do travel, it's hard and fast. 3AM alarm clocks are normal during weeks I travel and driving at least 90-110 miles one way to an airport is also normal. We live in the middle of a desolate prairie. Why do I do it? My husband and I have agreed it's best for our family. Plain and simple. You can ask questions and I'll answer but as a family at this stage of life, my career works for us for a few reasons. But the number one reason I can have a working mom career is I have a huge support system. From my employer to my husband to my parents to my daycare provider and more are a part of the system that makes me tick. Then there are my in-laws who are just down the road from us that help us daily with our family life in a huge way. They are a big stake in our support system and part of that reason is best described in this photo I took last night of the evening meal awaiting me on my in-laws dining room table. 
My mother-in-law's cooking eases my anxious mind
I came home last night to my family being fed. My flight was late so I missed sitting down to eat with them but waiting for me was a homemade feast. If I travel on business, my mother-in-law cooks for our family. It's not an average meal as you can see either. It's from scratch and it allows our kids to sit down with their dad and grandparents, developing close knit relationships they wouldn't have had if we lived where my employer's offices are or if we had stayed on my husband's corporate wheel career.
The kids are happy. We are happy. How can you not be happy eating Nana's double chocolate cake? My laundry is not done. My house is not clean.
(Please note the bruises on Hunter's arms are a result from his football game.)
But when I come home to my kids and their laughter as they play on the floor of Nana and Grandpa's house along with a full family meal made by mother-in-law, my working mom anxiety releases. What a working mom comes home to matters. I am thankful for what I come home to every day.
What helps ease your mind during hectic times?
Linking up today with The Wife of a Dairyman for Thankful Thursday…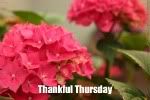 Tomorrow I am going to be featuring a list of my favorite blogs that I read often. Over the long weekend, I have not one but two recipes to share. Broccoli and Swiss Casserole from Gooseberry Patch and the Rhubarb Blueberry sauce that we just made with the last of a summer crop of rhubarb a friend shared with us.