This is my second installment of books I give as gifts. I realized at Christmas that I give a lot of books as gifts and decided to blog about it.
Every day and night at our house we read to our children.
The teenager has his own reading time before bed and I am constantly purchasing books for him. That might change that he got a Kindle for Christmas.
We absolutely love books. It was instilled in me to love books from generations of readers. My great-great aunt Iris is 105 years old and spent her career as a librarian. She passed down her love of books to my grandma and onto my mom. It has trickled down to me and to our children. We have a library of children's books. Many books have been passed down to me by my mom. Our teenager has read novels that my grandpa read as a child. Nathan's parents have numerous children's books from his childhood that the girls look forward to reading with them at their house. Our kids are immersed in books and reading.
I purchase books online and mostly on Ebay, Amazon and Barnes and Noble. On Ebay, I have purchased the full sets of series of books I wanted to find for our kids. Another time I can share those but for today these are the children's books about life on the prairie I give as gifts as baby, birthday and most recently Christmas gifts.
The three books are relevant to our prairie life. I always want to share these books because they resemble where we live and our culture. While many of our friends and their kids don't live near here by giving these books I feel like we are sharing a slice of the prairie with them through through this books.
I have provided links to each book and used images from Amazon or Barnes and Noble. You can purchase and connect to the prairie life by reading them to your kids and grandchildren.

My mom started giving this book as a gift years ago and I started to do the same when I was in college. I catch myself saying "If you're not from the prairie…" in sentences often. The book vividly describes prairie landscape through the wind, the snow, the sun, the grasses, the farms, the cattle, the harvest, the elevators and how the prairie truly becomes a part of you and develops your character.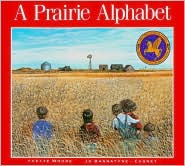 This is an award winning Canadian children's book. Life on the North Dakota prairie is much like life on the western Canadian prairie. The images and writing in this book beautifully show prairie life from A to Z. You will read about canola, elevators, gophers, oil pumps, quarter horses and so on plus there is a glossary at the back of the book for you to reference and learn more about the prairie terms. 
There is an entire series of state alphabet books. Of course, sharing the North Dakota book is my favorite. You can connect to North Dakota culture you may have never known and read to your kids about wildflowers, western meadowlarks, Teddy Roosevelt, baseball star Roger Maris, the Medora Musical, Sakakawea, the Red River of the North (which floods eastern North Dakota in the spring and washed away twenty years of my family's "life" in 1997) and much more. I have purchased different state books for numerous friends but always include this North Dakota book with the other books. The North Dakota book author, Roxane Salonen and I have recently become connected on Twitter. Now I feel even a greater connection to the book. Follow her at
PeaceGardenMama
. Read this book to your children and then come for a visit. We'll be your personal North Dakota hosts.
Each of these prairie dwelling books are not only favorite children's books at our house and that I give as gifts but they have a home in my office. I page through and read them to connect my love for the prairie.
What are your favorite children's books? 
Do you have any particular books that you enjoy reading to your kids or grandkids that remind you of where you live or memories from your childhood?
We always are looking for new books to add to our collection!